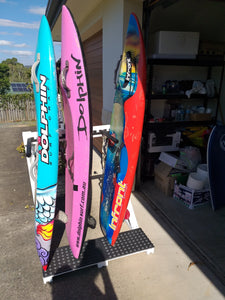 Vertical and freestanding - 5 different finishes
Eco Racks are lovingly handmade from reclaimed, recycled, and sustainable timbers and paint on the Sunshine Coast. Each rack is carefully measured, cut, drilled, screwed, glued, and painted by hand. The poles are made of black powder-coated steel which are then covered using insulation rubber tubing. To further protect your boards, I add thick, black EVA matting to the base and head of each rack to ensure zero scratches.   

Sturdy and durable, Eco Racks are stand-alone and do not lean on any walls. The higher the combined weight of your boards, the more sturdier the rack becomes. As such, Eco Racks do not have any sideways movement like some of the inferior quality racks you find on the internet.
The XXLarge 4 board rack can accommodate SUPs and mals and nipper boards.

Dimensions of the 4 board rack: 110cm long x 59cm depth x 109cm high.
25cm Gap for each board 

Flat-packed for delivery throughout Australia.  Note: we do not charge a handling fee.